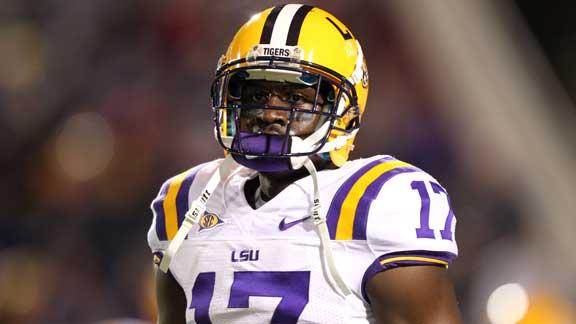 Author's note: this post can also be read at the Bleacher Report. 
Before Browns, Buccanneers and Rams fans send themselves into a tailspin over the report that LSU cornerback Mo Claiborne scored just a four (out of 50) on his Wonderlic test, let's take a moment to step back and re-examine the significance of this news.
Claiborne, a top-flight cornerback with shutdown potential, has long been viewed as the best defensive player in this year's draft class, and a shoo-in to land within the top six picks.
Cleveland, Tampa Bay and St. Louis all happen to be in that range and in the market for a player like Claiborne, but perhaps the intellectual gaffe of struggling through the Wonderlic will shy them away from the former LSU Tiger.
A few things to keep in mind:
1.     The Wonderlic is not a football test: in fact, it's much more like a test you'd see in a classroom setting.  It's about logic, reason, and problem solving.  Never does it ask you about the intricacies of cover four and when to man-turn versus zone-turn when carrying a vertical route.
2.     He's a cornerback: not a quarterback, and although every position in football requires intelligence, playing defense – and especially playing in the secondary – is about being able to react – not decipher coverages and recognize blitzes.
3.     Motivation: let's be honest, it's entirely possible Claiborne hardly exerted effort in taking this test.  He knows his draft fate – he wont slip out of the top six picks, and he knows he'll make his fortune by correctly guessing when to undercut slant routes, not multiple choice questions involving arithmetic and similes.  I'm not suggesting this is the case, but we shouldn't discount the notion that Claiborne simply looked past and breezed through this test without care.
It wont be long until we find out if and how this report affects Claiborne's status, but the fact remains that a Wonderlic result is just one piece of the draft puzzle.  Lest we forget the three years of standout film that Claiborne has to fall back on.